The GenPool platform is a zero barrier to entry free market ecosystem, connecting proxy owners with voters that are looking to support quality Block Producers (BPs) while being rewarded with a percentage of BP income each day.
How EOS Mainnet Works
1. EOS is Delegated Proof of Stake (DPoS) system which enables users to vote for Block Producers to validate blocks and operate the network. Top voted Block Producers are paid for their service from 1% annual token inflation in block rewards and vote rewards.
2. EOS accounts must stake their EOS to CPU/NET or buy REX in order to vote for Block Producers.
3. EOS accounts are only allowed to vote for 30 Block Producers each. Each Block Producer gets the same vote weight. For example, if you have 1000 EOS, each of the 30 voted block producers will get 1000 EOS vote weight allocated to them.
4. Instead of voting for individual Block Producers you may delegate your vote to a proxy or in our case a rewards proxy.
GenPool.io Introduces a New Flow!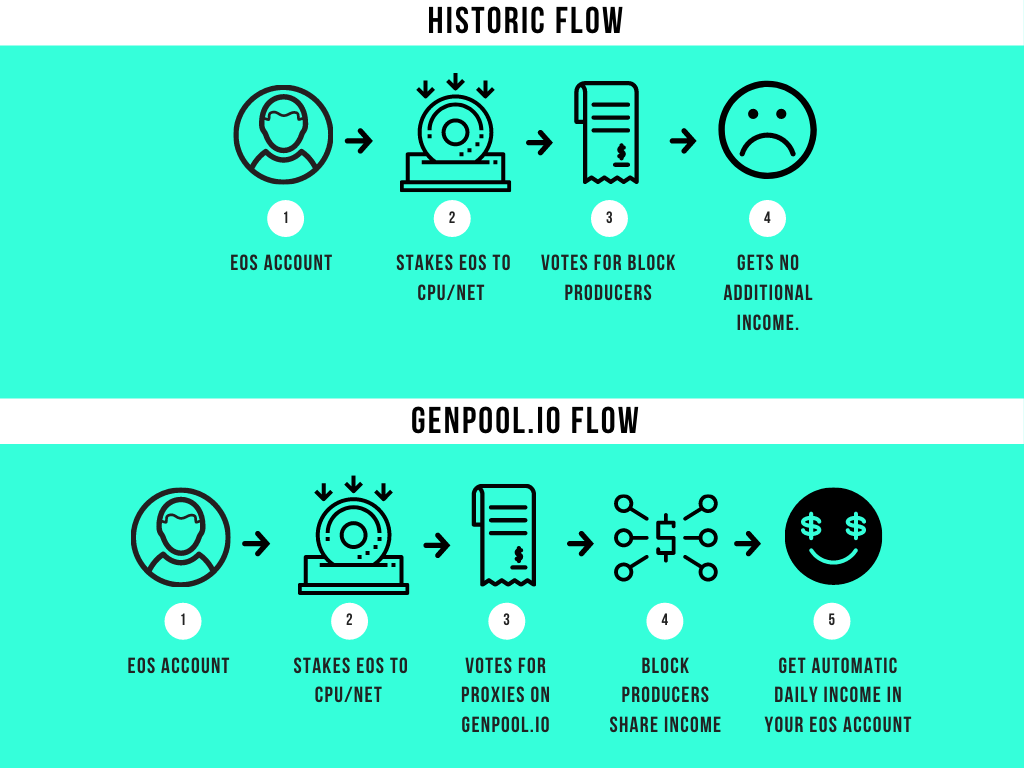 How to Earn Rewards
Earning rewards is as simple as voting for a proxy registered on GenPool.io. You can do this from the GenPool.io website or from any of your favorite wallets that allow proxy voting. Once you have voted for your selected proxy you will receive rewards sent to your account every 24 hours. No claim processes, simply get your rewards automatically sent to you. Check your rewards on any Block Explorer - we like Bloks.io


How to Vote

We will show you how to vote using GenPool.io but you can vote using any wallet that supports voting for proxies. Just remember the 12 character proxy name!

1. Login with your desired Wallet ensuring your EOS is staked to CPU/NET or in REX.


2. Pick a proxy that you like out of the public proxy table on the homepage. You can browse their criteria by clicking the "Info" button. Once you have selected your proxy click the "Vote" button and confirm the transaction pop-up.

3. That's it! You have voted for a rewards proxy and you will receive your daily EOS automatically in your account each day. Now sit back and enjoy the effects of compounding!